Ratti Gali Lake Trek Guide
20th August 2016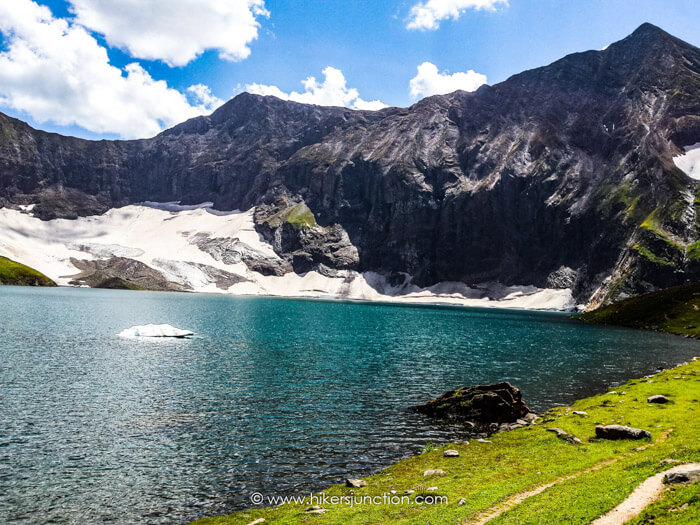 The Neelum Valley in Kashmir is renowned for its immense natural beauty which is epitomised by the alpine Ratti Gali Lake situated at an altitude of 3,700 m.
Once a remote lake situated in the wilderness and visited only by the most dedicated trekkers, it is now a highly accessible tourist attraction due to the development of a jeep track. Still, the jeeps only go up til the lake's so called base camp. From there, a short but steep hike takes you to this majestic high-altitude lake.
Jump to:
Note: Preserving nature for future generations is the responsibility of every tourist / hiker. Please DO NOT LITTER, DO NOT DRAW GRAFFITI, DO NOT CUT TREES.
Hike Overview
Hike Difficulty: Easy
Typical Hike Duration (One-way): 45 - 75 mins
Trail Head: Ratti Gali Base Camp
Lake Altitude: 3,700 m (12,140 ft)
Hike Season: July to September
Guide: Available from campsite
Porters: Available from campsite
Trip Overview & Itinerary
Day
Time
Journey
Duration
Day 1
07:00am to 02:00pm

Islamabad to Dowarian
7 hours
03:00pm to 05:00pm

Dowarian to Base Camp
2 hours
Day 2
08:00am to 09:00am

Base Camp to Ratti Gali Lake
1 hour
12:00pm to 01:00pm

Ratti Gali Lake to Base Camp
1 hour
02:00pm to 04:00pm

Base Camp to Dowarian
2 hours
05:00pm to 12:00am

Dowarian to Islamabad
7 hours
How to Reach Ratti Gali Lake?
By Car
Ratti Gali Lake is accessed through the town of Dowarian which is located in the Neelum Valley. Ratti Gali Lake's distance from Islamabad is about 250 km.
Neelum Valley is accessed through the city of Muzzaffarabad. You can reach Muzzaffarabad from Islamabad either through Murree Expressway or via Abbottabad.
The Abbottabad route is some 25 km longer but its also faster. For this route, set-off on the Peshawer Motorway (M-1). Turn onto Hazara Motorway (M-15) from the Hazara Interchange and head towards Mansehra. From Mansehra you will turn towards Garhi Habibullah and from there you will turn towards Muzzaffarabad.
For the Murree Expressway route, head eastbound on the Srinagar Highway (previously known as Kashmir Highway) in Islamabad. On the roundabout just prior to the Murree Toll Plaza, turn right on to the Murree Expressway.The Murree Expressway climbs up the Murree Hills and then descends down towards Kohala. After crossing the Kohala Bridge the road will head to Muzafarabad.
Once in Muzzaffarabad through either route, you will cross the Neelum River using the Iqbal Bridge and join the Neelum Valley road. On the Neelum Road you will pass by several towns including Kutton, Athmuqam and Keran.
After Keran you will drive into the town of Dowarian where you will see a queue of jeeps parked on a side road. This is the starting point of the jeep track to Ratti Gali Lake.
By Public Transport
Faizabad and Pir Wadhai Morr are the main bus stations in Islamabad / Rawalpindi. If you are ariving into Islamabad Airport, you can get to these bus stations via a ride-hailing app such as Careem / Uber. Alternate options include taxi and radio cab. Once there, you should get a bus to Muzzaffarabad.
From Muzzaffarabad hire a car or jeep to Dowarian. Once there, you will see a queue of jeeps parked on a side road. This is the starting point of the jeep track to Ratti Gali Lake.
Jeep Track to Ratti Gali Lake
The Ratti Gali jeep track takes about 1.5 - 2 hours to reach the lake's base camp. It is an of-road track which means it is unpaved and unmetalled. Initially you will be driving through a forest alongside a rapid yet pictureque water stream which orginates from the lake. In the second half of the jeep journey the altitude increases beyond the treeline and from here on the terrain is a mix of rocks and grass.
A single track serves both directions of traffic, and the journey becomes particularly adventurous when you have to cross an oncoming jeep for which your driver will utilise the entire width of the track. This is even more scary when your jeep is on the outside, inches away from the drop down into the freezing glacial water.
Ratti Gali Camping
If you commence your journey from Dowarian at early morning then it is possible to do the entire Ratti Gali round trip within a day. But this is rarely the case considering tourists travelling from other cities usually reach Dowarian around afternoon. This means that by the time your jeep journey is complete it will be almost dusk. For this reason, the locals have extablished a massive campsite on a plateau just below the Lake. For overnight stay, visitors can either bring their own tents or avail the preset tents at a price. All necessary camping equipment such as mattresses and blankets are available.
Available Facilities at Campsite
| Facilities | Availability |
| --- | --- |
| Tents | |
| Water | |
| Food | |
| Toilet | |
| Phone Signals | |
Food is also available at prices according to the location, that is, higher than usual. At night, you can sit around a bonfire but this is not recommended as it is one of the preventable causes of deforestation in the region. Fire wood doesn't come cheap either since the locals bring it from lower altitudes where there are trees. The temperature at Ratti Gali can drop to as low as 5&degC even in August so it is advised to carry warm clothing and high quality sleeping bag and camp.
Hike to Ratti Gali Lake
The water stream on the left side of the campsite comes from the lake. This will tell you the general direction which you are supposed to take. You can now start hiking up towards the lake. Up till 2017 there wasn't a defined trail to the lake, but now due to the large influx of tourists a path of sorts may have appeared.
It is a fairly steep climb through a grassy terrain. Be wary of a few swamp patches along the hike and always stay on the right side of the stream.
After about 30 mins or so of hiking, you will see a miniature lake. Don't worry though because this is not THE lake.
The nearly vertical mountain seen in the backdrop of Ratti Gali will slowly emerge as you climb up to the lake. The trail will eventually start to flatten out and soon enough you will be gazing upon the magnificence of Ratti Gali in all its glory.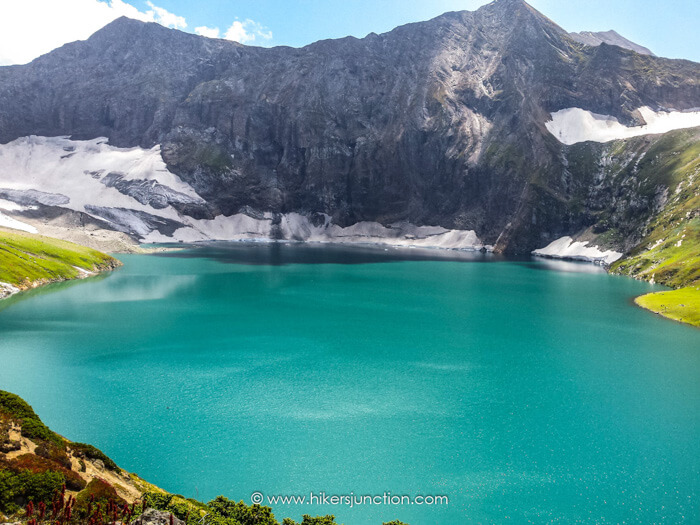 Surrounding Lakes
The region between the Neelum Valley on the Kashmir side and the Lulusar-Dudipatsar National Park on the KPK side is home to a large number of lakes, many of them are famous such as Dudipatsar Lake, yet many are unknown and unnamed. A few of these lakes can be accessed through the Ratii Gali hike, namely the Hans Raj Lake and Gattian Lake.
Equipment
Having the right equipment and gear is essential for an enjoyable hiking experience. Check out the list of recommended hiking gear.