Dudipatsar Lake Trek Guide
01st September 2020
Termed 'The Queen of Lakes', Dudipatsar Lake (also called Dudipat Lake) is located at an altitude lake of 3,850 m in the Lulusar-Dudipatsar National Park, Pakistan.
Jump to:
Hike Overview
Hike Difficulty: Moderate
Trail Length : 19 km (12 mi)
Typical Hike Duration (One-way): 7 to 9 Hours
Trail Head: Moon Restaurant, Besal
Trail Head Altitude: 3,250 m (10,662 ft)
Lake Altitude: 3,875 m (12,713 ft)
Elevation Gain: 625 m
Hike Season: July to September
Camp site: Available 4 km (2.5 mi) from lake
Guide: Available from Trail Head
Porters: Available from Trail Head
Car Parking: Available at Trail Head
Note: Preserving nature for future generations is the responsibility of every tourist / hiker. Please DO NOT LITTER, DO NOT DRAW GRAFFITI, DO NOT CUT TREES.
Trip Overview & Itinerary
Day
Time
Journey
Duration
Day 0
05:00pm to 11:00pm

Islamabad to Kaghan
6 hours
Day 1
07:00am to 11:00am

Kaghan to Besal
4 hours
12:00pm to 06:00pm

Besal to Mulla ki Basti
6 hours
Day 2
07:00am to 09:00am

Mulla ki Basti to Lake
2 hours
11:30am to 05:30pm

Lake to Besal
6 hours
06:00pm to 08:00pm

Besal to Batakundi
2 hours
Day 3
08:00am to 04:00pm

Batakundi to Islamabad
8 hours
How to Reach Dudipatsar Lake?
By Car
Dudipatsar Lake trek is unique due to its relatively easy accessibility. The Dudipatsar Lake's distance from Islamabad is 320 km which is a straightforward drive which almost any 800cc plus car can manage. You can park right at the trail head and start trekking right away since there is no jeep journey involved.
From Islamabad, set-off on the Peshawer Motorway (M-1). Turn onto Hazara Motorway (M-15) from the Hazara Interchange and head towards Mansehra. From Mansehra, turn towards Naran and carry on all the way past Balakot, Kaghan, Naran & Batakundi.
At about an hours drive from Batakundi is the very small roadside village of Besal. Here, there is a very famous restaurant which goes by the name of Moon Restuarant. It can be identifed by its spacious dining area and large parking lot. The trail head is just at the back of this restaurant.
Upon entering the parking area, tell the parking attendant that you are here for the hike to Dudipatsar and he will guide your car to a specific area in the parking where all the hikers' cars are parked. Parking your car in the same place as other hikers' makes it easy for the watchmen to look after the cars at night. Remember that your car will be parked here for at least one night, possibly more.
Just behind Moon Restaurant is the Kunhar River. The trail starts perpendicularly on the other side of this river.
By Public Transport
Faizabad is the main bus station in Islamabad / Rawalpindi . If you are arriving into Islamabad Airport, you can get to Faizabad via taxi, radio cab or a ride-hailing app such as Careem or Uber. Once in Faizabad, you can get a bus for Naran, which should take about 8 hours. From Naran you can get to Besal via a jeep. The distance of Dudipatsar Lake from Naran is about 45 km.
Hike to Campsite
In order to start the hike you first have to cross the raging Kunhar River. For this, the locals have tied a wire across the river on which a basket hangs for seating people and / or loading luggage. At least 2 people are required here so that one can pull the other across.
Once across, you head perpendicularly from the Kunhar until you see the water stream coming from the lake itself. From here onwards you hike alongside this water stream. In the beginning the terrain is dry and hence the trail is somewhat dusty. Some sort of face covering would definitely help here.
Its easy to spot the trail up until the several unmelted glaciers that come in the path. On some of these you are supposed to cross over the water stream to the other side whilst on others you don't. Due to this, it is possible that you may lose the trail unless you have a guide with you.
After crossing the last glacier which is particularly tricky due to its steep slope, you climb up a rocky incline. Once at the top, you end up in a vast open meadow. From here onwards the hike is almost flat all the way up to the campsite. The mountain behind the lake is constantly in sight from here onwards.
After a little over 7 km of hiking, you reach an area called 'Galma' where some locals sell tea out of a tent.
After 11 km on the trail, you have to cross over across the water stream yet again. This time there is a wooden plank that serves as a bridge. Going over this plank is an experience in of itself.
Camping at Mulla ki Basti
After hiking 13 km in about 5 to 7 hours, you will reach the small camp site which goes by the name of 'Mulla ki Basti'. Most people will stop here to camp for the night. If you don't have your own camp and food, you can get both here at a price. If you do have your own camping gear then you can camp here free of charge. There is even a makeshift toilet here, which is rather unhygienic but provides much needed privacy nonetheless.
The entire hike is above the treeline hence there aren't many features the hide behind for attending the call of nature.
At night time the temperature drops quite a fair bit. It is recommended to use a good quality sleeping bag with a temperature range of at most O&deg C. In the cold of the night, batteries of electronic devices drain very quickly. Hence, it is recommended to keep your camera, mobile phone and power bank inside your sleeping bag so that they may keep warm and preserve their charge.
Available Facilities at Campsite
| Facilities | Availability |
| --- | --- |
| Tents | |
| Water | |
| Food | |
| Toilet | |
| Phone Signals | |
Hike to Dudipatsar Lake
The following morning, breakfast can either be bought from the campsite administrators or you can cook for yourself if you have a portable stove.
The hike is continued along the same water stream. The lake is located at a further 6 km which takes approximately 2 hours of trekking.
In this area several marmots can be seen and heard. These are about the only wildlife that you will come across on this hike.
The final approach to the lake consists initially of a climb and then a gradual descent towards the lake. The beauty of this lake is in the snow on the mountain in the backdrop of the lake. Due to Dudipatsar Lake's height of 3,875 m it gets a lot of snow in the winters and this snow does not melt completely in the summer. The greenery combined with the white snow elevates the visual appeal of this lake. Earlier in the hiking season (June / July) there is more snow and the views are that much better.
If you reach the lake early on a sunny day then the sun would be rising behind the lake and henceforth taking good pictures will be tricky. In the afternoon / evening, however, the sun will be shining onto the lake and the true grandeur of the lake will be on display. If you are staying at the lake till evening, make sure you have warm clothing with you because Dudipatsar Lake's temperature can drop quickly in the evening.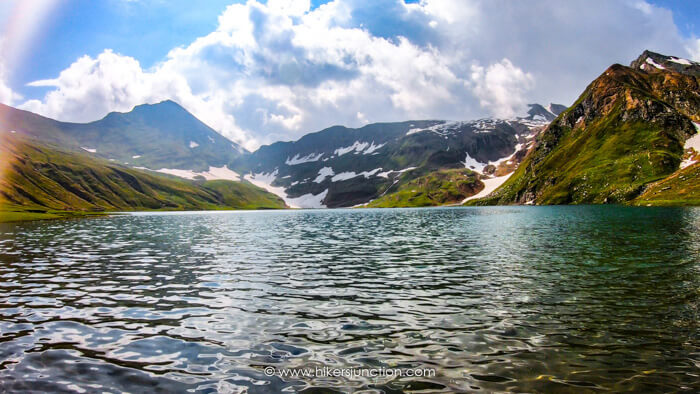 Equipment
Having the right equipment and gear is essential for an enjoyable hiking experience. Check out the list of recommended hiking gear.