Makra Peak Trek Guide
30th November 2016
Makra Peak's height of 3,885 m makes it one of the highest mountains in the Mansehra District, Pakistan. In Urdu language, 'Makra' literally means spider. Although the true reason behind this strange name is not certain, one of the reasons could be the fact that numerous routes can be taken to climb this peak, just like the numerous legs of a spider.
Jump to:
Hike Overview
Hike Difficulty: Moderate
Typical Hike Duration (One-way): 4 Hours
Trail Head: Paye Meadows
Trail Head Altitude: 2,895 m (9,500 ft)
Peak Altitude: 3,885 m (12,746 ft)
Elevation Gain: 990 m (3,248 ft)
Hike Season: All year around
Guide: Available from Shogran or Paye
Porters: Available from Shogran or Paye
Car Parking: Available at Shogran
Trip Overview & Itinerary
Day
Time
Journey
Duration
Day 1
11:00am to 05:00pm

Islamabad to Shogran
6 hours
Day 2
08:00am to 08:30am

Shogran to Paye
30 mins
08:30am to 01:30pm

Paye to Makra Peak
5 hours
02:00pm to 05:00pm

Makra Peak to Paye
3 hours
05:30pm to 06:00pm

Paye to Shogran
30 mins
Day 3
10:00am to 04:00pm

Shogran to Islamabad
6 hours
How to Reach Makra Peak?
By Car
Makra Peak is accessed through Shogran which is located at a distance of 222 km from Islamabad. Set-off from Islamabad on the Peshawer Motorway (M-1). Turn onto Hazara Motorway (M-15) from the Hazara Interchange and head towards Mansehra. From Mansehra, turn towards Balakot / Naran.
At about 45 mins drive from Balakot is an place called Kiwai which is famous for its waterfall that crosses the very road you are driving on. A little ahead of Kiwai, turn right onto a steep road. There is a small signboard here which indicates that this is the turn for Shogran.
This road is both rough and narrow, so caution is due if you have a wide vehicle (a Land Cruiser, for example). A 30 min drive on this road will take you to Shogran. There are many hotels in Shogran in which you can check-in and spend the night before heading to Paye the following day.
A 30 min jeep ride will take you from Shogran to Paye meadows from where you begin the hike.
By Public Transport
Faizabad is the main bus station in Islamabad / Rawalpindi . If you are arriving into Islamabad Airport, you can get to Faizabad via taxi, radio cab or a ride-hailing app such as Careem or Uber. Once in Faizabad, you can get a bus for Naran. Let the bus driver know that you have to disembark at Shogran turn or Kiwai. From there you can hire a jeep to get to Shogran and then to Paye.
Hike to Makra Peak
The trail head for Makra Peak is the Paye meadows which are probably one of the best tourists attractions in the region. In the summer, Paye is a lush green hilly meadow with amazing views of the surrounding mountains and valleys. In the winter season, the meadows are covered in snow which is equally pleasing to the eye. In the autumn season, however, the grass turns brown and the area is not as appealing. Climbing Makra Peak in winter is most common due to the added challenge of snow.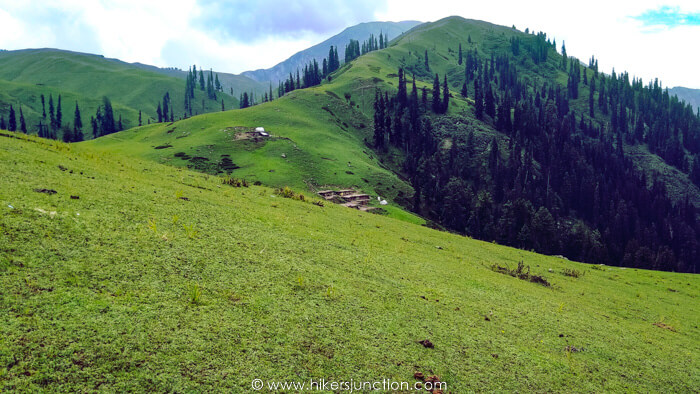 The mountain right behind Paye meadows is the Makra. You walk across the meadow and once you are on the other side you can see the trail that heads up the mountain.
For the first hour or so the trail has a very slight gradient and can largely be considered flat. Later on, at the beginning of the ascent, the trail disappears. Makra Peak's route is basically up to the hiker. You can choose to climb up however you like, as long as you are going up. A note of caution here that the entire hike is above the treeline hence there aren't many features to hide behind for attending the call of nature, if needed.
Certain routes will lead to steep sections whereas others will have a constant gradient.
Throughout the hike you will be able to see the surroundings, usually snowcapped, peaks. Near the very top the steepness reduces and the last 40 mins or so aren't that difficult. In the winter season, however, there will be deep snow and covering even short distances will take a lot of effort.
Bear in mind that this is a high altitude hike and at such heights and cold temperatures you can easily become dehydrated because we don't feel as thirsty in the cold even though our body is continuously losing fluids. So remember to keep taking small sips of water on a regular basis. Failure to do so might render you prone to headaches or illness which will spoil the hike and may even cause you to abandon the summit push. You can check out the recommended drinks and snacks to be taken along on such hikes.
After a total trekking time of about 4-5 hours you would have scaled Makra Peak's elevation of 3,885 m. It will most likely be very windy and cold at the summit and you probably won't spend anymore than 30 mins there before heading back down.
The downwards journey obviously takes less time and you will reach the jeeps in about 3 hours.
Equipment
Having the right equipment and gear is essential for an enjoyable hiking experience. Check out the list of recommended hiking gear.